Is the Sabbath Important?
or
Time With Your Friend!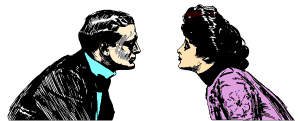 I was in love with a beautiful girl, and I thought she liked me too. But I had a problem. The only opportunity for us to spend any special time together was once a week. The first time we made arrangements for this special occasion, I told her I would arrive at her house just as the sun was setting, and the sky was beautiful, purple and romantic. When the pre­arranged time arrived, I came up the front steps, anxious to see her, and I knocked on the door.
Her little brother came to the door. "Where's your sister?" I asked.
"Oh," he said, "I think she's in the shower. But you can come in and wait if you want to."
So I waited. After a while she came through the house headed toward the kitchen. Her hair was all wet and up in curlers. As she went past me she said a quick hello, then disappeared into the kitchen.
This was rather disappointing. She seemed to be doing something out there in the kitchen with an iron and ironing board, preparing something for the next day I guess. I also heard some pots and pans rattling as the oven door opened and shut.
I began to wonder just how anxious she really was to see me, but I continued waiting. After a while some of the other members of her family came in. She came out of the kitchen, introduced us, and said, "Maybe we can sit down and get acquainted."
But her little brother said, "When are we going to eat?" After a bit of discussion they decided we would eat first, so we went to the table and sat down.
After supper someone said, "Why don't we go into the family room and get acquainted with our guest."
Her brother said, "Do we have to?"
I didn't feel too good about that, but we went into the family room anyway and began to talk. I noticed that several of them were terribly sleepy, including the young woman I had come to see. She kept nodding and yawning. Finally, her little brother went to sleep while we were talking.
My weekend with this young woman's family was off to a poor start. She apologized however, and said, "Listen, I had an awful lot to do this week, and I'm sorry I wasn't ready for your coming, but things will be better tomorrow. We've made some special plans." My heart began to pick up, and I felt better.
I went to bed and dreamed of going to some quiet place where we could really communicate and get to know each other better.
The next day I discovered she had invited a group of friends to get together to go out in nature. At first I looked forward to it, but then I found out that all of her friends were bringing their motorcycles. We went out in nature all right-but I couldn't even talk above the roar of the engines. Finally noontime came, and we sat down for a picnic lunch. She seemed to be very tired, and after we'd eaten, she and her friends spread their blankets out under the trees for a siesta. We couldn't talk then. I ended up spending most of the afternoon walking alone in the woods.
When I returned to the group, they were awake. As I approached I could hear them talking. I overheard my friend saying she could hardly wait until I left, because she had exciting plans for that evening-after I was gone. I left that weekend, sad and disappointed!
It would be terrible to love someone who really doesn't want to spend time with you. Did you know that Jesus likes you so much that He has set aside some special time each week for you and He to spend together? You could think of it as a date with God ...

"Come to Me, all you who labor and are heavy-leaden and overburdened, and I will cause you to rest. [I will ease and relieve and refresh your souls.]" Matthew 11:28 (The Amplified Bible)
---
[ Home | Lessons | Introduction | Questions | Daily Bites | Conclusion | Extended Study ]
---
Lesson 12 - Introduction
Copyright © 1997, Lee Venden and Thure Martinsen