Is Jesus Coming Again?
or
Going Home With Your Friend!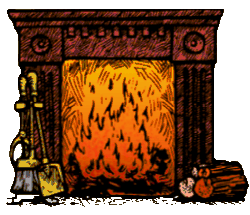 Though I was only five years old, I can still remember the long trip from Oregon to Grandpa Venden's house in California--so we could be "Home for the Holidays." As we traveled, the day came and went. Night settled down and I remember being struck with the thought that the moon was following us. The moon faded into dreams and the next thing I knew, Dad was carrying me beneath the Ponderosa pines that grew in Grandpa's yard.
The next morning was Christmas day. I helped Grandpa get a fire going with a bellows he had brought from Norway. Breakfast preceded present opening and took several years to finish. We finally opened our presents and my favorite was a blue blankie made by Grandma that had horses running across it. I still have it.
We had Christmas a second time that year. Home for the holidays had to include both sets of Grandparents. Grandpa Moore had an enormous tree ornamented with lighted glass tubes that bubbled with colored water. Yellow angels flew about the tree and hovered over the presents. Grandpa Moore always gave each grandchild a silver dollar for Christmas so we could be rich.
Aunt Barbara came over with Idiot's Delight, her fabulous whipped cream and strawberry jello. After eating, the adults played table games, while we cousins all enjoyed having the run of the house. There was homemade fudge and taffy and other goodies scattered around, where nobody was watching. It snowed that night, adding a final touch of enchantment.
Christmas after Christmas passed and I went away to college where I met a girl who was later to become my wife. I remember going home with her for Christmas. Her family had a rock fireplace strung with lights which were left up year round. Nostalgia at the flick of a switch.
Our first year of marriage, we lived in a one room apartment furnished with orange crates and foam pads. That wasn't the home we wanted to be in for Christmas, so we fueled our Datsun and headed for Northern California. Ten hours later we approached a door by moonlight and discovered a note tacked to it. Somebody had written with a felt tip marker "There is room in our inn and the door is unlocked." Once more, we were Home for the Holidays.
The next year, I got my first job teaching school. My folks moved to Nebraska, where they were spending their first year in a 100 year old farmhouse. They were confident that having the whole family together would make the farmhouse home, so they sent airline tickets and we had a white Christmas on the hill.
There's something special about getting together with loved ones and friends for Christmas. Over the years we've driven thousands of miles to be Home for the Holidays. Some of the journeys have been difficult as we crawled along on icy roads with vehicles that had long ago seen their best years of service. Why do we do it? Perhaps it is because within us all, there is a desire to go Home.
Do not let your hearts be troubled (distressed, agitated). You believe in and adhere to and trust in and rely on God; believe in and adhere to and trust in and rely also on Me. In My Father's house there are many dwelling places (homes). If it were not so, I would have told you; for I am going away to prepare a place for you. And when I go and make ready a place for you, I will come back again and will take you to Myself, that where I am you may be also. John 14:1-3 (The Amplified Bible)
---
[ Home | Lessons | Introduction | Questions | Daily Bites | Conclusion ]
---
Lesson 8 - Introduction
Copyright © 1996, Lee Venden and Thure Martinsen