Are You Born Again?
or
Keep Looking at Your Friend!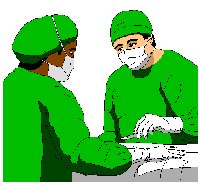 Two medical students went off to school to study for medicine. One of the first things they were introduced to was the anatomy lab. In this lab there was a heavy silence. It was kind of cold, and things were really dead there! But these med students were anxious to make a good showing, so they analyzed the situation. They noticed that there was a good deal of unity there in the lab. There didn't seem to be any fights going on; no one was vying for the highest place. They were all in the same position. As the med students considered the situation, they become convinced that what these patients needed was improved health. They tried introducing the patients to a new diet, but nobody seemed to care about eating. They told the patients about the benefits of exercise, but no one seemed interested. These students determined there must be an even deeper problem.
They wondered if the problem was a lack of fellowship. But that turned out to be a deadend street. The patients refused to be sociable. They tried to develop a statement of mission--it was ignored. They considered a lack of resources may be the problem and took up an offering--no one gave.
In the end, the med students discovered to their dismay that the people in the lab all had a common problem. They were not breathing ... they weren't even alive.
I grew up being friends with Kelly. Our parents attended school together and as the years passed, our families often enjoyed each other's company. My friendship with Kelly continued through elementary school, high school and college. We did a lot together and enjoyed talking about all kinds of things. We gave each other encouragement and advise, and I remember romances that were improved because I followed Kelly's counsel.
On more than one occasion, friends of mine suggested that I consider dating Kelly. Many of Kelly's friends suggested that she and I would make a great couple. At first, neither of us gave the matter much serious thought. Then our parents began dropping hints in that direction and I remember taking a new look at Kelly.
She was cute, bright, fun to be around, athletic, outdoorsey, and spiritual. All qualities I deemed necessary for a life companion. I'm not sure how many of those adjectives Kelly felt applied to me, but the truth is, we both decided to seriously pursue a romance together.
Then came an insurmountable problem. Neither of us seemed able to fall in love with the other. We tried! We went on official dates. We worked at it. We agreed that we were right for each other. We couldn't imagine having more in common with any one else. We discussed our inability to "click." Try as we might, there was no redhot flame, in fact, there wasn't even a spark. It was really quite discouraging to have finally found that perfect person and then realize that you would rather swallow gravel than kiss, snuggle or hold hands. We finally gave up trying.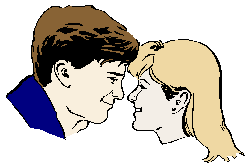 A few years later, I met Marji. The chemistry was there from the start. We didn't try to make it happen, it just did. It was more than a spark too, it was a nuclear reaction and less than a year later we were married. We have been kissing, snuggling and holding hands ever since. The difference between those relationships was a "click" that transformed the second one into love. Breathless cadavers and selfwilled romances have something in common with a message Jesus gave to Nicodemus. They were talking one night about conversion, a "second birth" that Jesus said was necessary before anyone could see the heavenly kingdom. Nicodemus asked, "How can a person be born again?" That's a good question!

"And I, if and when I am lifted up from the earth [on the cross], will draw and attract all men [Gentiles as well as Jews] to Myself." John 12:32 (The Amplified Bible)
---
[ Home | Lessons | Introduction | Questions | Daily Bites | Conclusion ]
---
Lesson 2 - Introduction
Copyright © 1995, Lee Venden and Thure Martinsen